The District Board of Directors is composed of five members who set policy and water rates, provide direction to the General Manager, and oversee the budget and capital expenses.
Meetings – The Board meets at least once a month, traditionally on the second Monday of each month, for its regular Board meeting. Board meetings must comply with the Open Meeting Laws of Arizona, which include notifying the public twenty-four hours in advance of the meeting, and only discussing and acting upon the items listed on the agenda. Meetings are held at the District office, 6265 N. La Cañada Drive. More detailed information about Board meetings can be found here.
Board Members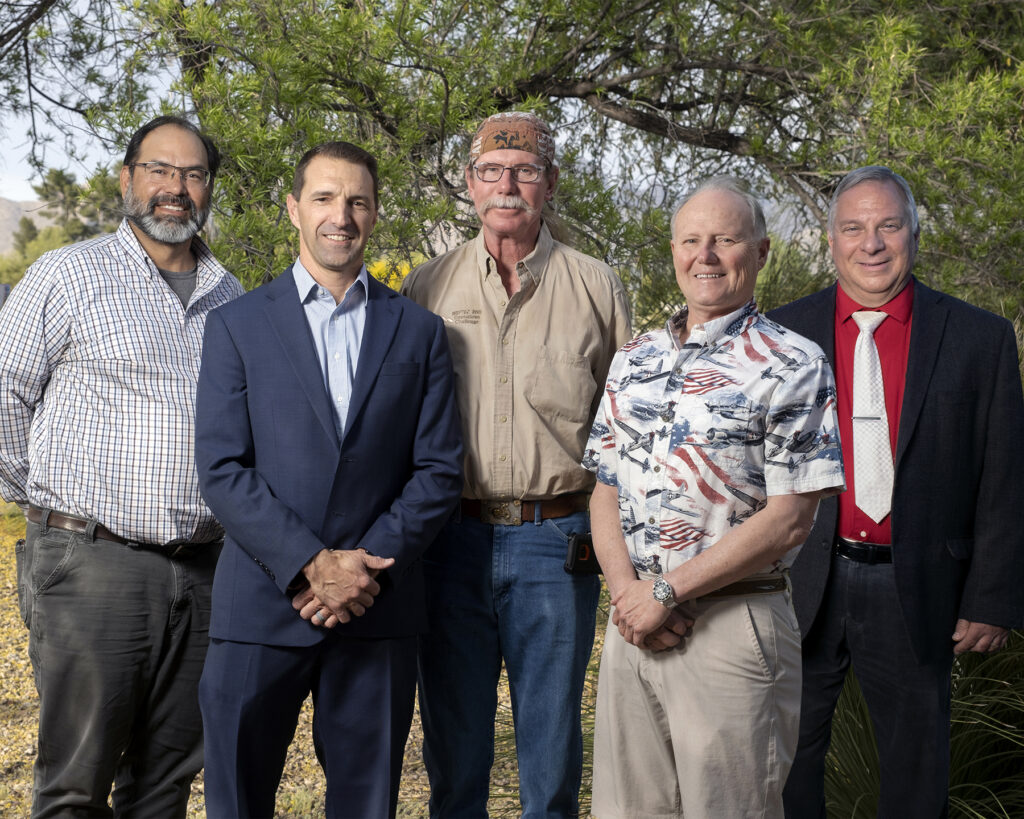 James O. Doyle (2018-2026) Jim has served on the Board since 1994. He has devoted his working career to serving the public. Jim has been with Pima County Wastewater Management for more than thirty years and is currently Superintendent of the Ina Road Treatment Plant. Jim is an active member of the community and has also served on the Board of Directors for Northwest Fire District. He has lived in the Tucson area his entire life.
Bryan Foulk (2020-2024) Bryan is a long-time Tucson resident, graduating from Sahuaro High School and the University of Arizona. Bryan has a Doctor of Dental Medicine from Washington University. Having grown up in Tucson, he understands the importance of water conservation. Bryan has been involved in children's charities and youth sports. He currently provides dental services for Youth On Their Own and is actively involved with the Kids in Need Foundation and the Kyle Franks Foundation. Bryan serves on the Arizona Dental Board as well.
Lee Jacobs (February 2021 – 2024) Lee is a 5th generation Tucsonan, who understands the importance of water conservation and maintaining a diverse water resources portfolio. He has a Bachelor's Degree in Civil Engineering from the University of Arizona and is a registered Civil Engineer in the State of Arizona. Lee has a Grade 4 in Water Distribution and Wastewater Collection and is a Certified Public Manager from Arizona State University. Lee is currently the Water Engineering Manager for the Town of Oro Valley. Having worked in the water industry, in both the public and private sectors, Lee has a strong appreciation of what it takes to run a utility, to maintain infrastructure that meets or exceeds the State and Federal Standards, and to protect our long-term ability to deliver safe and reliable water.
Richard A. Sarti, P.E. (2018-2026) Richard is a native Tucsonan who truly understands the importance of the arid Southwest's most precious resource, i.e. water. He graduated from Catalina High School and the University of Arizona with a Bachelor's Degree in Civil Engineering. Richard has worked as a civil engineer in the private sector with a focus on land development, planning, surveying as well as mining and industrial design. He has been with Tucson Water since September 2012 and currently holds the position of Tucson Economic Advancement Center Administrator. 
Scott Schladweiler (2022-2026) Scott has approximately 23 years of experience in the water sector and currently serves as the Chief Engineer at Tucson Water. Previously, he was the Water Director for the Town of Marana. Scott is a registered professional engineer (civil) in Arizona and an Arizona Department of Environmental Quality certified operator.